UK Broadcast Transmission


THE TRANSMISSION GALLERY
LLANDRINDOD WELLS
| | |
| --- | --- |
| Photos by Martin Watkins | Page last updated: 2014-07-25 |
March 2013
The gallery update list called for a visit in order to record the arrival of DAB at this site. BBC DAB entered service on 5th July 2011.
The tower is set on high pasture beyond a farm. The landowner was more than helpful in allowing us access to what I can only describe as one of the most beautiful vantage points I've seen in Britain for many years...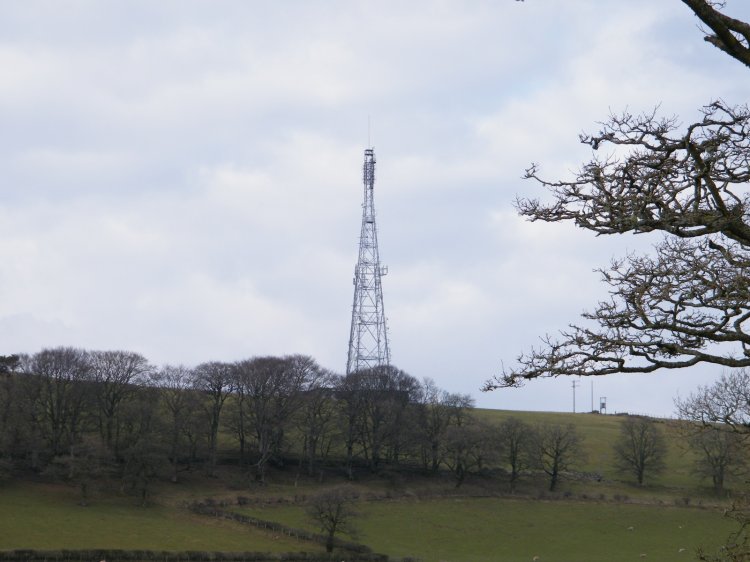 Here's the new DAB aerial system interleaved with the Band II ADC panels - agl of 69.3 m.
One of the old RBL troughs on Carmel has been replaced with the up to date version we've seen used at many sites during the DSO process.
There are two BBC radio RBLs at the site. One is of course for the local transmitters themselves, the other is the head end for a link to Blaen-Plwyf. This onward link is described as an RBL rather than RBS but it's unclear what it's for given that there's also a "proper" digital link between Wenvoe and Blaen-Plwyf.
I'm assuming that the RBL for Llandrindod Wells itself is on this wooden pole......
.....which would mean that the logs on the tower itself are the head end rx aerials for the Blaen-Plwyf link.
The dish on the left is on 27.5 deg W. Used for BBC DTT RBS. The dish on the right is on 10 deg E. Used for the BBC DAB feed.
View of Llandrindod Wells itself. Photos really don't do justice to the sheer scale and beauty of the scenery around this site, and I would like to renew my thanks to the farmer who so generously allowed us access.

Getting ourselves up here reminds one of the enormity of the task facing the transmitter operator in keeping the national networks on air and accurately maintained. It must be so annoying to discover (or perhaps be told about) some triflingly minor anomaly like a wrongly adjusted FM tx frequency and have to go to the bother of travelling miles and miles to put it right.....!
Back to TX Gallery index | TX main index
| | | |
| --- | --- | --- |
| mb21 by Mike Brown | Hosted by | |