UK Broadcast Transmission


THE TRANSMISSION GALLERY
RHAYADER
| | |
| --- | --- |
| Photos by TCPD | Page last updated: 2012-11-16 |
Antenna build and installation - 1976
The story begins at Brookmans Park, where UHF antenna arrays were assembled and tested at the BBC workshops...
Panels being checked before being assembled on the spine

Another assembled antenna is seen behind. It looks as if the panels are about 170 degrees apart - that is unusual, effectively two separate service areas from the same station. (Editor's note: Deiniolen is a known example of this arrangement)

The majority of antennas with two stacks of panels have them 90 or 120 degrees apart

Just visible in the background is the BBC emergency UHF antenna in its cylinder which was stored there along with the emergency mast. It was a wideband Marconi antenna capable of radiating four programmes at 100kW ERP
The radome (GRP cover) has two drain holes in one end. One of them was fitted upside down, so while I was putting that right, I took some pictures inside

This is the Band 4 version. There are two printed circuit "batwing" radiating elements - further details of the design are in the BBC Research paper linked at the foot of this page
An "N" connector on the back panel connects to a stripline which feeds the two elements via their own baluns

The second connector about 10cm higher is capacitively coupled to the stripline and acts as a test point for measuring the amplitude and phase of the power fed to the panel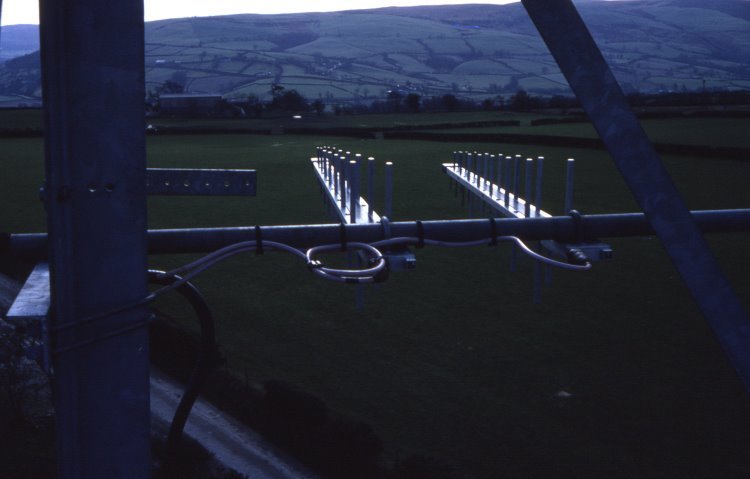 At the relay site, the twin log periodic RBR antenna looking at Llandrindod Wells
Tidy site with real imitation stone building and real imitation Welsh slate roof?

Rhayader entered service on 8th April 1977, with S4C available from the launch on 1st November 1982.
Vertically-polarized printed panel aerial (BBC Research paper)

Back to TX Gallery index | TX main index
| | | |
| --- | --- | --- |
| mb21 by Mike Brown | Hosted by | |