UK Broadcast Transmission


THE TRANSMISSION GALLERY
BLAIR ATHOLL
| | |
| --- | --- |
| Photos by John Martin | Page last updated: 2019-09-06 |
August 2019
Blair Atholl in Perthshire was on the "updates" list and I just happened to be in the area with a 4x4 vehicle and long lens! It's a lovely site with great views - especially back towards Pitlochry, from where it gets its signal. The single tower is shared with Vodafone and O2 according to the signs on the various cabinets. There is some evidence of damage - one of the four vertical collinears appears broken. there is also a cut coax on the tower.

Just 50 metres down the hill is another tower which seems to be exclusively for the Airwave (TETRA) service.
First sight of the tower.
General shot of the tower in its woodland context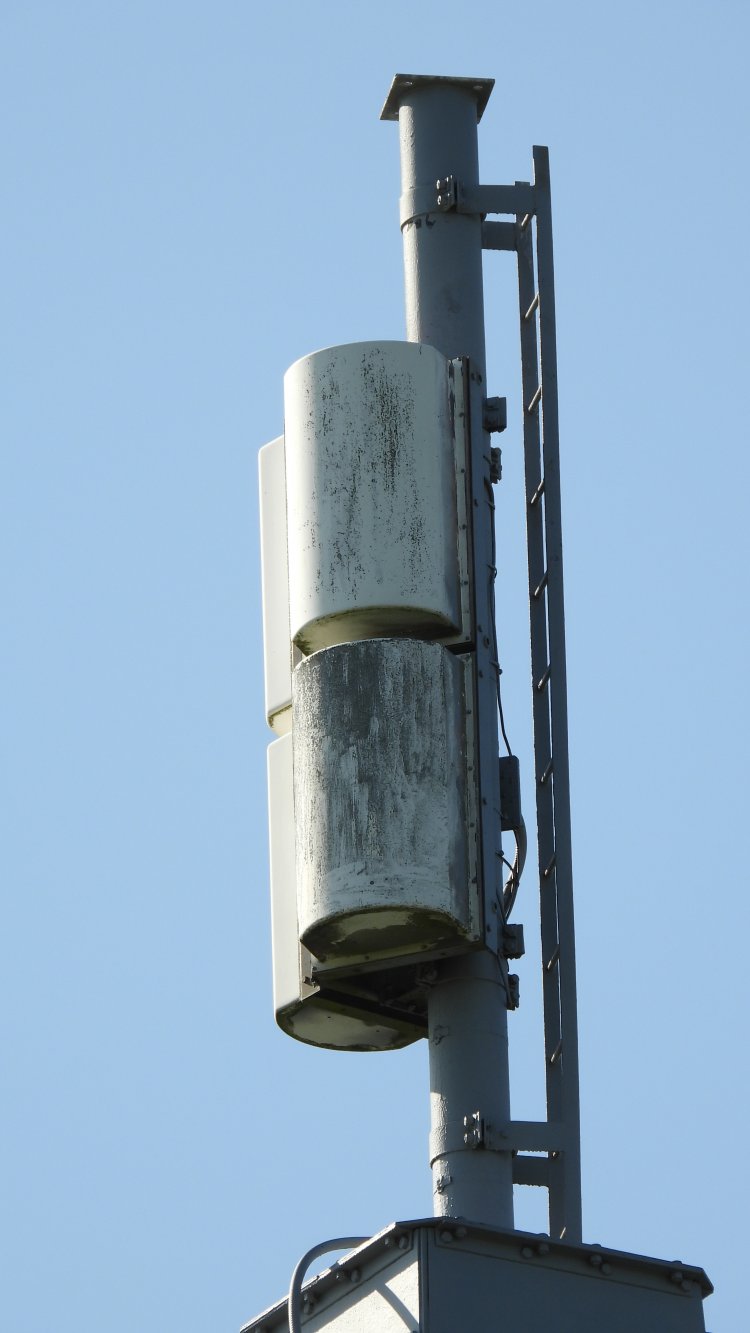 The very top. Two tiers, each of two band V, UHF panels at 120°.
Spot the broken(?) vertical collinear (left) and the GSM panels.
On the left is the R.Scotland transmit aerial at the 25m level. The folded vertical dipole. Lower still, and some microwave dishes come into view - presumably back-haul for GSM networks
A single vertical band II folded dipole is used for R.Scotland transmit.
General shot of pretty much the whole tower and you can now see the two horizontally stacked vertically polarised log-periodics pointing directly at the Pitlochry transmitter so these must be the receive aerials for the Freeview from Pitlochry.
We all like log-periodics, so here they are from underneath. More intriguingly, though, at the top of the picture at the centre is a cut coax and it's a thick TX one. Was an older UHF panel removed at DSO? The cut looks clean and new, though. Answers on a postcard ….
Did I mention we liked log-periodics? Here they are again
Lower still, we see a Band II yagi pointing towards Pitlochry. This is the receive aerial for R.Scotland. And the much larger SHF antenna! This is pointing to a tower somewhat to the north of Pitlochry (not the TV transmitter tower).
Closer view of the Band II receive Yagi.
Cables from the cabinets on their way to the tower
The Arqiva Site Number is somewhat faded!
And a final shot returning to the top of the tower. The wonderful Scottish blue sky is actually more marvellous than the radiator panels IMHO.
Back to TX Gallery index | TX main index
| | | |
| --- | --- | --- |
| mb21 by Mike Brown | Hosted by | |