UK Broadcast Transmission


THE TRANSMISSION GALLERY
LONDONDERRY
| | |
| --- | --- |
| Photos by TCPD, Andy Hayward and Jordy Lyons | Page last updated: 2013-02-05 |
The Londonderry site is on Sherriff's Mountain which overlooks the town of Derry/Londonderry. It provides this part of Ulster with radio and TV services on UHF, VHF and MF.

Classic FM's transmissions on 100.5 are directional as the RTE relay at Malin Head is just 200 kHz away.

RTE's tv transmitter at Holywell Hill is less than 2 miles south of this site and many houses in Co. Derry and Co. Donegal have 2 UHF aerials receiving all 10 tv services available in the area.




Below: A photograph (provided by TCPD) taken before the VHF re-engineering to mixed polarisation.

TCPD writes: The top span carries an 8 tier HP antenna for VHF/FM (13kW erp)and a 4 tier HP antenna for Band I television (channel 2, 1.5kW).

Below the stays can be seen the "loop and dipole" mixed polarisation FM antenna used by the IBA as a cheap antenna for the first independent local radio stations. Not many of these have survived because they were fairly narrow band and not generally suitable for sharing.

The cantilever UHF antenna is a 16 wavelength cardioid inside a 3ft. diameter cylinder - the only time the BBC used this size for a cardioid, though the IBA used 3ft. cylinders at all their sites. I believe there were no changes for DSO and the cardioid is probably one of the oldest still in service

Above: The MF aerial radiating BBC R Ulster, R Five Live and talkSPORT



Below is a view looking to the west of the site showing another short tower, apparently with UHF panel aerials which probably radiate the local tv service Channel 9. Beyond that is the RTE tower Holywell Hill.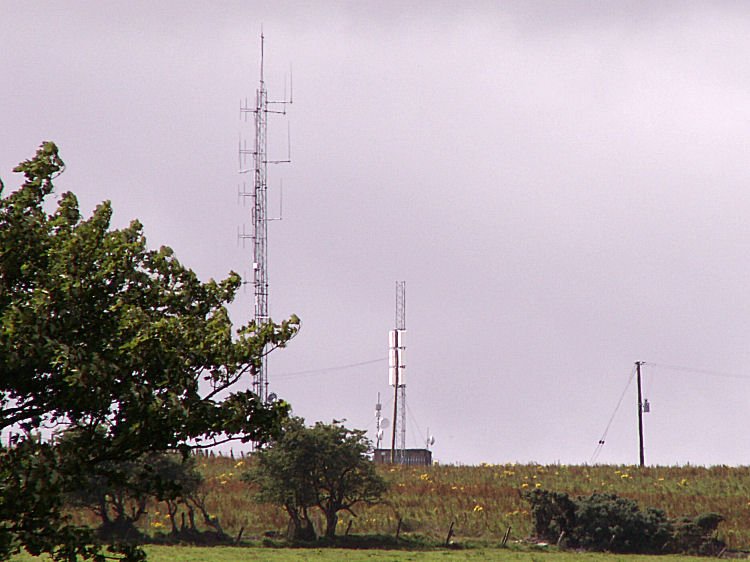 BBC RD: SIte tests in Londonderry (1956)

Back to TX Gallery index | TX main index
| | | |
| --- | --- | --- |
| mb21 by Mike Brown | Hosted by | |