UK Broadcast Transmission


THE TRANSMISSION GALLERY
| | |
| --- | --- |
| Photos by Bill Wright | Page last updated: 2021-03-02 |
NGR: SN624845
Maps: Google Bing (Ord Surv)
Site Height: 35m
Structure Height: 17m
Digital TV:
BBC A: 40
D3&4: 43
BBC B: 46
BBC Radio:
Ind. National Radio:
Ind. Local Radio:
Digital Radio:
Comments:
Bow Street is a relay of Blaenplwyf (via Dolybont). Pre B700 allocations: 44/41/47. Now direct RBL of Blaenplwyf.
Bow Street receives from Dolybont, to the north, and transmits on bayed logs aligned slightly S of W and N.

There are many things I don't understand here, not least, why were there two huge logs (of the wooden type) piled against the gate? Unfortunately the picture doesn't quite convey how completely the logs block the entrance.

I had assumed that the raison d'etre for this site was the inability of the village of Bow Street to receive from Penrhyn-coch, not much more than half a mile away but screened by the brow of the hill on which that site stands. Bow Street, as the name suggests, isn't so much a village as a street with houses along it, and these houses universally obtain their TV reception from Blaenplwyf, which provides enough signal for small aerials to be in the majority. This puzzled me. Why does the Bow Street relay receive from another relay instead of from Blaenplwyf? And why is the relay there in the first place? Presumably it serves some area that I didn't notice, despite searching quite hard. Half of the bayed logs point along the Clarach valley, which doesn't actually need any help at all because it has line-of-sight to Penrhyn-coch, up there on the big hill just behind the Bow Street.

An IBA Engineering Bulletin from August 1985 reads: To serve about 625 people in the area between Bow Street and Clarach Bay including Bow Street, Llangorwen and Clarach. The service date was 27-Sep-1985.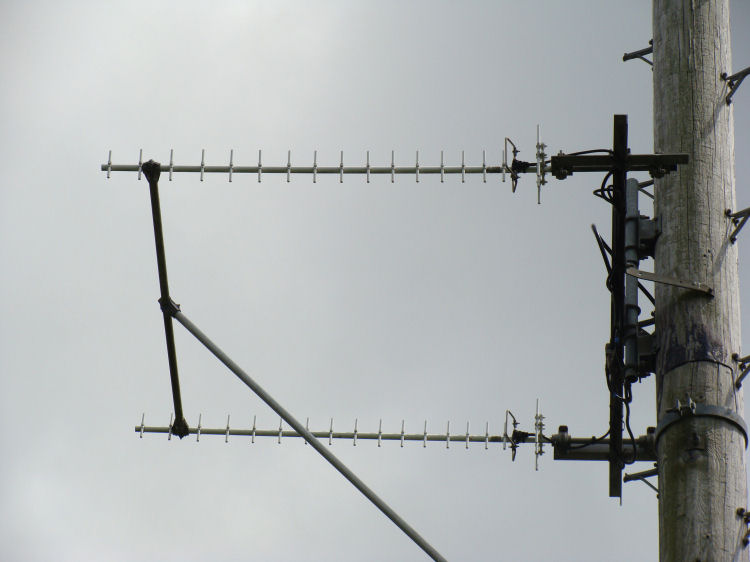 Blaenplwyf | Dolybont | Penrhyn-Coch
Back to TX Gallery index | TX main index
| | | |
| --- | --- | --- |
| mb21 by Mike Brown | Hosted by | |