UK Broadcast Transmission


THE TRANSMISSION GALLERY
NEWHAVEN
| | |
| --- | --- |
| Photos by Martin Briscoe, David Neale and James Pomfret | Page last updated: 2014-05-04 |
1974, 2005 and 2006
Along with Martin's 1974 picture of the Band III antennas, are David's pictures from February 2005 and James in June 2006 (site signage and final photo) and prior to the installation of DAB.

The ITA VHF TV band 3 transmitter at Newhaven claims the distinction of being the very last 405 line transmitter to be installed in the UK, opening on 3rd August 1970. All subsequent commissions were for 625 line transmissions. BBC 1 VHF TV at Newhaven had opened the previous year. Both 405-line transmissions ceased on 9th July 1982.

UHF transmissions for all three channels began at the site on 16th February 1973, with Channel 4 from May 1984. The UHF cylinder contains a NNE (20°) facing cardioid. DSO was on 30th May and 13th June 2012.

FM radio transmissions commenced with ILR Brighton (Southern Sound) on 12th February 1988. BBC national FM radio started later in 1988, with Radio Sussex added in 1992 and Radio 1 on 21st March 1994.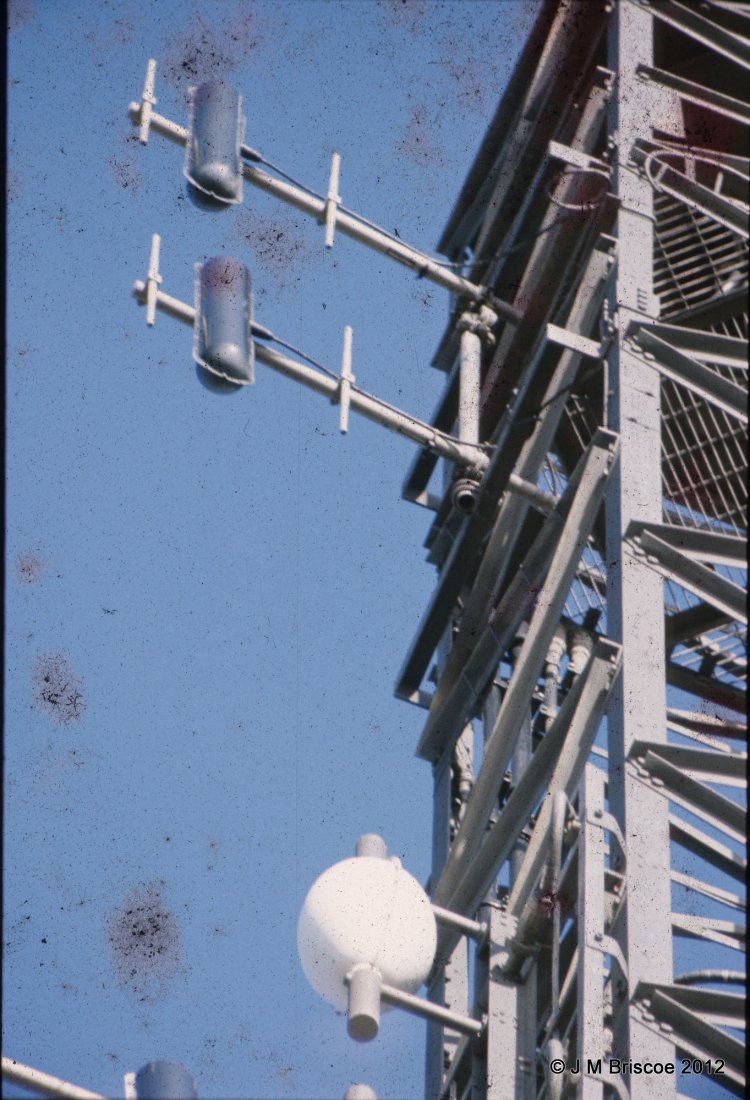 Picture supplied by Martin Briscoe.
Not all antenna are shown as there is another antenna just off picture which could be for reception of another transmitter (RBL).

Background research suggests the upper two antenna are for BBC Tx on channel 8 and the lower antenna (White egg centre) are for ITV on channel 6 (Both on band III). The BBC service used a antenna at 40m agl with a service ERP of 50 watts and ITV was 35m agl with a service ERP of 1kw.

The ITV antenna seems to be of similar design to those used at other transmitter sites such as Croydon. While the BBC antenna appears to be a modified design, possibly by the BBC themselves.
Back to TX Gallery index | TX main index
| | | |
| --- | --- | --- |
| mb21 by Mike Brown | Hosted by | |