UK Broadcast Transmission


THE TRANSMISSION GALLERY
| | |
| --- | --- |
| Photos by Dan Glover | Page last updated: 2011-08-24 |
| | |
| --- | --- |
| Hollington Park | East Sussex |
NGR: TQ795109
Maps: Google Bing (Ord Surv)
Site Height: 42m
Structure Height:
Digital TV:
BBC A: 35
D3&4: 37
BBC B: 39
BBC Radio:
Ind. National Radio:
Ind. Local Radio:
Digital Radio:
Comments:
Hollington Park is a relay of Heathfield. Pre B700 allocations: 50/59/55
Updated August 2011
Hollington apparently means "dwelling in the hollow" and the area is in a dip which makes the blocks somewhat less prominent than would be expected.

Building work during my first visit meant the rx log wasn't easily visible, but all is clear now.

According to the sign with history of the local area, the blocks are the same design as a development in Ramsgate. Curiously enough the configuration of the relay is also similar.

In October 2010 there was refurbishment work in progress which made it difficult to see the rx antenna. The guyed mast in the centre of the roof - purpose unknown - has since been removed.
In August 2011 there is clearly still refurbishment in progress, but the roof work has been completed. The glass screens around the parapet have been removed, giving a clear view of the broadcast antennas.
Is that a GPS cone to the left of the rx log?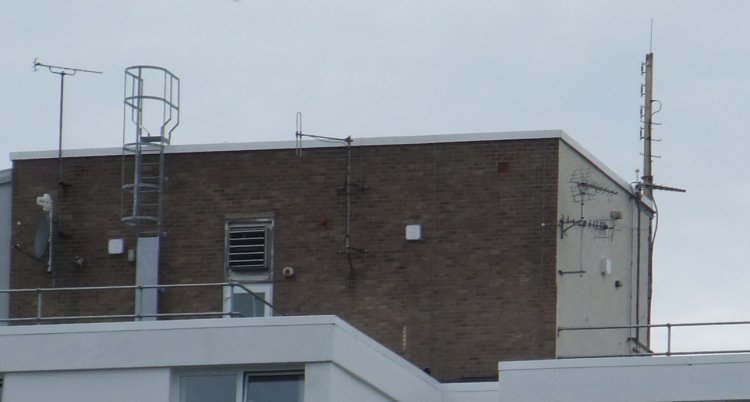 Back to TX Gallery index | TX main index
| | | |
| --- | --- | --- |
| mb21 by Mike Brown | Hosted by | |