UK Broadcast Transmission


THE TRANSMISSION GALLERY
STOCKLAND HILL
| | |
| --- | --- |
| Photos by Martin Watkins | Page last updated: 2021-02-09 |
2004 - 2007 pre DSO work
In these photos we can see more clearly the 4-yagi array firing at the Channel Islands which previously carried a NICAM feed of the BBC national radio networks using UHF ch 30. (We believe that the receiving aerial on Alderney, CI, is just line-of-sight with the Stockland Hill mast.)

This NICAM feed is no longer in use as the services are now carried to the CI by fibre optic cable.

In addition, commercial DAB radio has been joined by a new BBC DAB array.


The NTL signs have been replaced, Arqiva rules!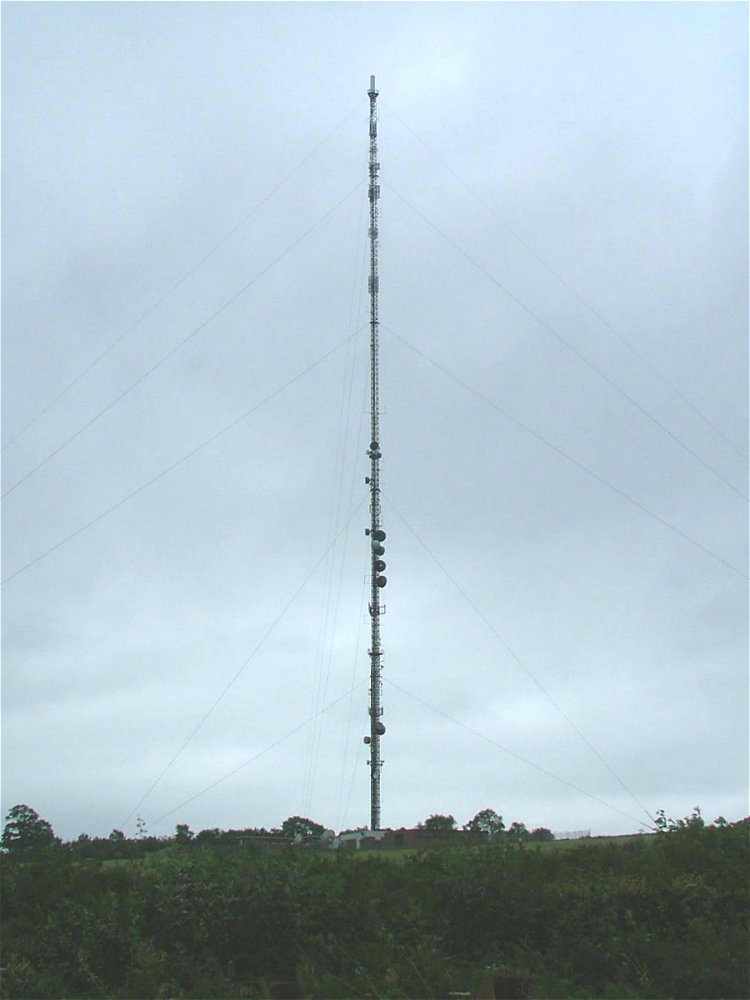 The photo below shows the UHF yagis used to send the NICAM bitstream to the Channel Islands by 'Tamed FM' modulation to provide the programme feed for the network FM sevices from Les Platons. This link was provided using ch 30 UHF, with the analogue TV channels on 23/26/29/33.

Read more about this link via the link at the bottom of the page.
National commercial DAB above local DAB array, beamed west(ish) towards Exeter
Lower DTT array and ILR FM.
Unlike examples at Winter Hill or Belmont, the UHF cylinders here and at Caradon Hill have relatively small apertures. This is a four channel system (ie BBC/ITV/C4 all combined into one antenna) and each programme has a tx power of 17 kW to give 250 kW erp. Inside the cylinder are EMI slots, three tiers of full height (approx 2 m high each) and a further tier of half height panels. Three panels per tier, set at 120 deg intervals.


Above: from the top

UHF analogue cylinder
UHF link pointing towards Alderney for BBC national radio NICAM feed to Channel Isles
Reserve UHF
ILR FM (205 m agl)
DTT tx chs 22/25/28 (193 m agl)
DTT tx chs 30/32/34 (190 m agl)
National Commercial DAB (177 m agl)
Local Commerical DAB (173 m agl)

and at the bottom here's the new BBC DAB array, which unlike its D1 counterpart appears not to have a blind aperture on the southern face.
Above: not a great day weatherwise, but we've moved to 2007 and if you look carefully at the photo above there are two Siras just visible, having been installed just under the top platform, to carry the ILR FM service during part of DSO work. A portent of major works to come...
BBC RD: A digital audio link to the Channel Islands (1987)
NICAM feed to Channel Islands

Back to TX Gallery index | TX main index
| | | |
| --- | --- | --- |
| mb21 by Mike Brown | Hosted by | |