UK Broadcast Transmission


THE TRANSMISSION GALLERY
SUTTON COLDFIELD
| | |
| --- | --- |
| Photos by Lee Mansfield, Mike Smith, "Science & Vie" magazine and BT Heritage | Page last updated: 2021-07-04 |
Archive material
Sutton Coldfield, the UKs longest serving TV transmission site, is located 1-2 miles north of the town centre in the affluent suburb of Mere Green.

The original mast was the first built outside London, extending BBC TV coverage to a large part of the Midlands from 17th December 1949 onwards. FM radio was added on 20th December 1956.

Read Ray Cooper's "Tales From a Cold Field" - see link at bottom of this page.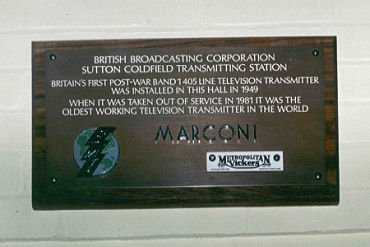 This photo shows the original mast with the Band I dipoles (close-up, right) above the Band II slot aerials for VHF radio. The picture was part of an article in Science & Vie magazine in 1954. It was kindly contributed by Louis Foratier.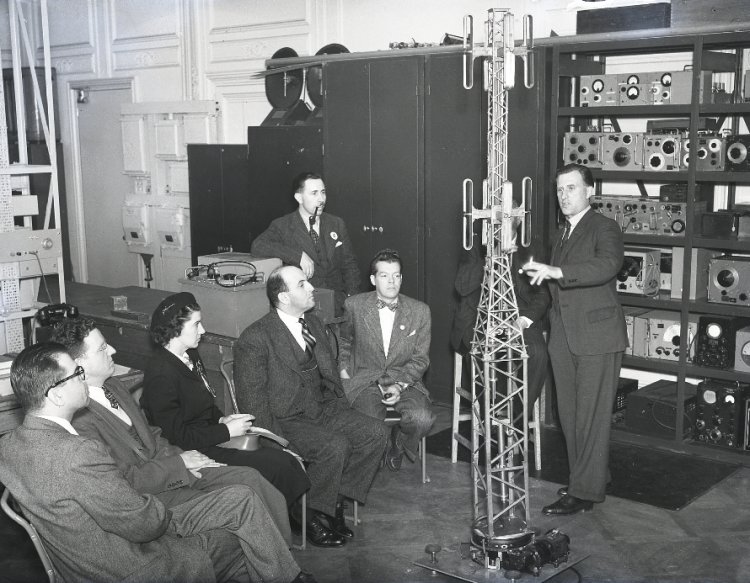 August 1950 "CCIR Delegates Viewing a Model of Sutton TV Aerial at Kingswood Warren"

[TCB 473/P 4774]


The above image is Copyright BT Heritage, licensed under a Creative Commons License and reproduced under the following terms
This photo had been on Lee's workshop wall for many years and has the pin holes to prove it - he says "I had a 'visit' from the 'Special Branch' the same evening after I took the photo wondering what I was up to!"

A new band I TV aerial was installed at a slightly lower location to permit the installation of the UHF cylinder at the top of the mast for BBC 2. This new band I aerial entered service on 23rd October 1964. BBC 2 transmissions commenced on 6th December 1964 from a temporary aerial at lower power from a 46m tower.
BBC 2 transferred to the main UHF cylinder, at full power, on 4th October 1965.

UHF 625-line colour on BBC 1 and ITV launched on 15th November 1969 from Sutton Coldfield. Channel 4 was available from the start on 2nd November 1982.
With the magic of modern photographic processing software, we have been able to remaster the original and restore it to its former glory.
The last ever 405-line transmissions in January 1985 were also broadcast from here and it was around this time that the current mast entered service, having been built alongside the site of the original.

The photo above, taken by Mike Smith in 1983 shows the new mast (left) alongside the old one, from which the UHF cylinder has already been removed. The letter from the BBC (below) explains why the new mast was needed.
TV aerial (Band I) for Sutton Coldfield
TV aerial (Band I) for Sutton Coldfield - Interim Report 1947
UHF aerial at Sutton Coldfield (1965)
New Band I aerial in preparation for UHF transmissions from Sutton Coldfield
FM aerial for Sutton Coldfield and Wrotham
Ray Cooper's Tales from a Coldfield

Back to TX Gallery index | TX main index
| | | |
| --- | --- | --- |
| mb21 by Mike Brown | Hosted by | |