UK Broadcast Transmission


THE TRANSMISSION GALLERY
| | |
| --- | --- |
| Photos by Mark Carver, Rufus Shorht and Dan Glover | Page last updated: 2011-10-30 |
NGR: SU374138
Maps: Google Bing (Ord Surv)
Site Height:
Structure Height:
Digital TV:
BBC A: 40
D3&4: 43
BBC B: 46
BBC Radio:
Ind. National Radio:
Ind. Local Radio:
Digital Radio:
Comments:
Millbrook is a relay of Rowridge. Used to broadcast Six TV on ch 55. Pre B700 allocations: 44/41/47
Updated October 2011
This site is located on the western edge of Southampton, on a tower block next to the junction of the M271 and A35.

Signals from Rowridge are spoilt in the area by the many nearby dockyard cranes, so this relay was established in October 1981.

Some time later a HP component was added (site 108.59). This, together with the apparent lack of any receive antenna on Rowridge, caused some debate as to whether a different feed may have been used.

The site was also used (along with Fawley) for the local analogue TV service for Southampton, Six TV, from 2003 to 2009.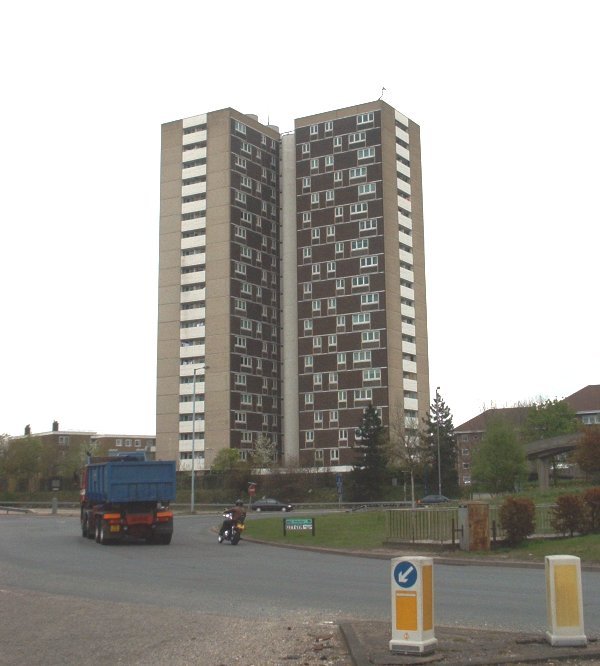 Mark Carver's photo shows the view from the M271 roundabout (to the west of the site). The main transmit antenna is just visible to the left of centre on this T-shaped building.
The next three images, from Rufus Shorht, were taken in February 2010 and appear to be from a position just to the south of the block.
To the left are the HP log and two VP dipoles. The main transmit array is the stack of four dipoles on the right.
Dan Glover visited in October 2011. These photos are from south east and east of the building.
The pair of dipoles in the centre is believed to have been the Six TV transmit antenna.
The HP log - and what we believe to be a solar powered AWL.
Still no sign of the receive antenna - the domestic antenna on the right shows the direction of Rowridge.

Photographs in the planning application for Six TV show an HP log mounted at low level, on the side of the structure below the tx stack. The green enclosure (possibly a replacement for DSO?) shows the height of the parapet wall - it's not going to be easy to see the rx antenna from ground level.
Planning Application 02/01461/FUL (Six TV)

Back to TX Gallery index | TX main index
| | | |
| --- | --- | --- |
| mb21 by Mike Brown | Hosted by | |