UK Broadcast Transmission


THE TRANSMISSION GALLERY
| | |
| --- | --- |
| Photos by Bill Wright | Page last updated: 2014-10-27 |
NGR: NH639580
Maps: Google Bing (Ord Surv)
Site Height: 212m
Structure Height: 243.8m
Digital TV:
BBC Radio:
Ind. National Radio:
Classic FM: 101.4
Ind. Local Radio:
Moray Firth Radio: 97.4
Digital Radio:
BBC National: 12B Digital One: 12A Inverness: 11B
Comments:
Mounteagle was originally built to provide 405-line Grampian TV to Inverness and the Moray Firth area in NE Scotland. Today it transmits FM and DAB radio. TV & BBC FM radio services to the area, are transmitted from the nearby site at Rosemarkie.

405-line Grampian TV launched on 30th September 1961 on VHF ch 12, and closed in January 1985. TV returned to Mounteagle with Channel 5 from the launch on 30th March 1997 on UHF ch 67, closing at DSO on 20th October 2010.

ILR (Moray Firth Radio) launched on 23rd February 1982 on 95.9 MHz. Frequency changed to 97.4 MHz on 9th April 1987. Classic FM was added on 20th November 1996.

DAB service dates are: Inverness, 20th August 2003; Digital One, 25th November 2003; BBC, 3rd February 2004.

If you look for this transmitter site on the OS map you will find a summit called 'Mount Eagle' with two radio mast symbols. It seems to be fairly conclusive, but it is misleading. I donít know what there is on that summit because I never got there. On the way a huge mast appeared in front of us...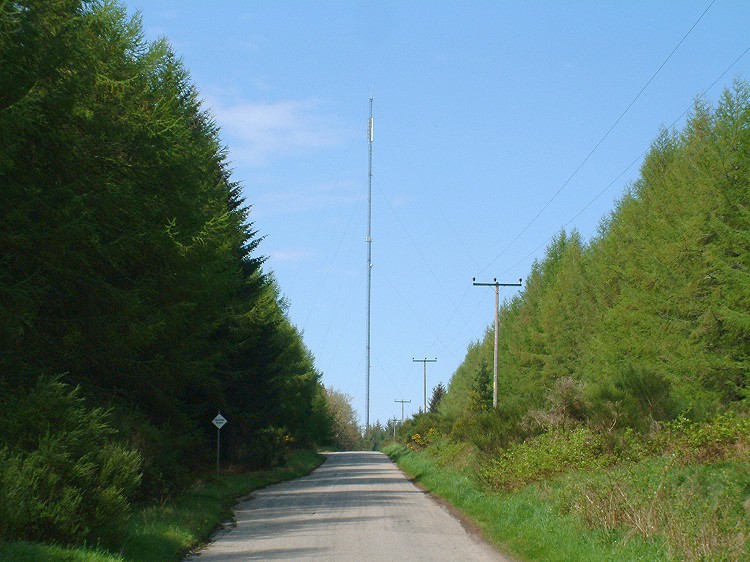 The view from the road was impressive and I suspected that I had come upon my quarry, so I stopped at the gate.
The padlocks were impressive and strongly suggested that I should keep out so I decided on a discreet approach and walked along the road at the side of the site. I soon came upon the Amazing Posing Horse.
No matter how I tried to photograph the installation this creature interspersed itself between me and the target and adopted a variety of fetching equine attitudes.

Tiring of the horse I went further down the lane, then turned onto the swampy land behind the site. Soon I was attempting to jump from one tuft of dry ground to the next, with limited success, and then I came to a wall of solid gorse. I crawled under the worst of it and emerged next to a pond full of goldfish. Apparently the pond was there to provide a reservoir in case of fire - there's no mains water up there. It is said that the site had (has?) fire appliances and the staff were (are?) trained in their use.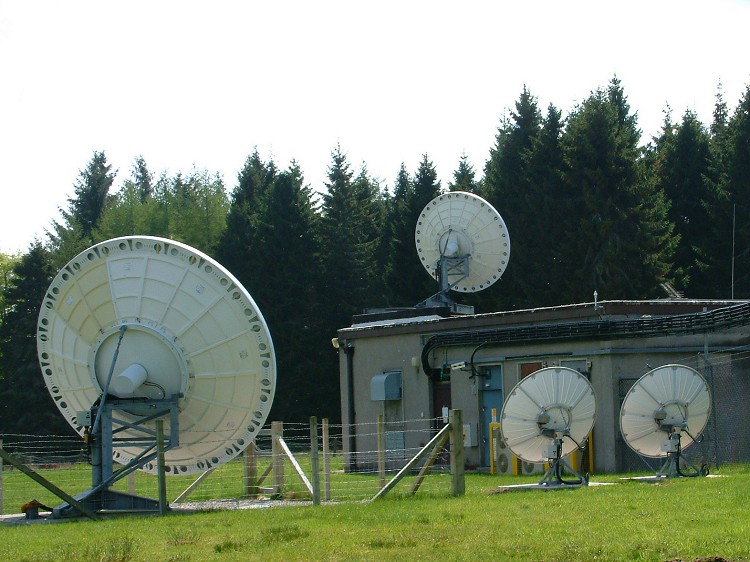 I got a few shots of the satellite dishes - one of which was strategically placed to look out through a gap in the trees - then I approached a bit closer via an unlocked gate and photographed the base of the mast.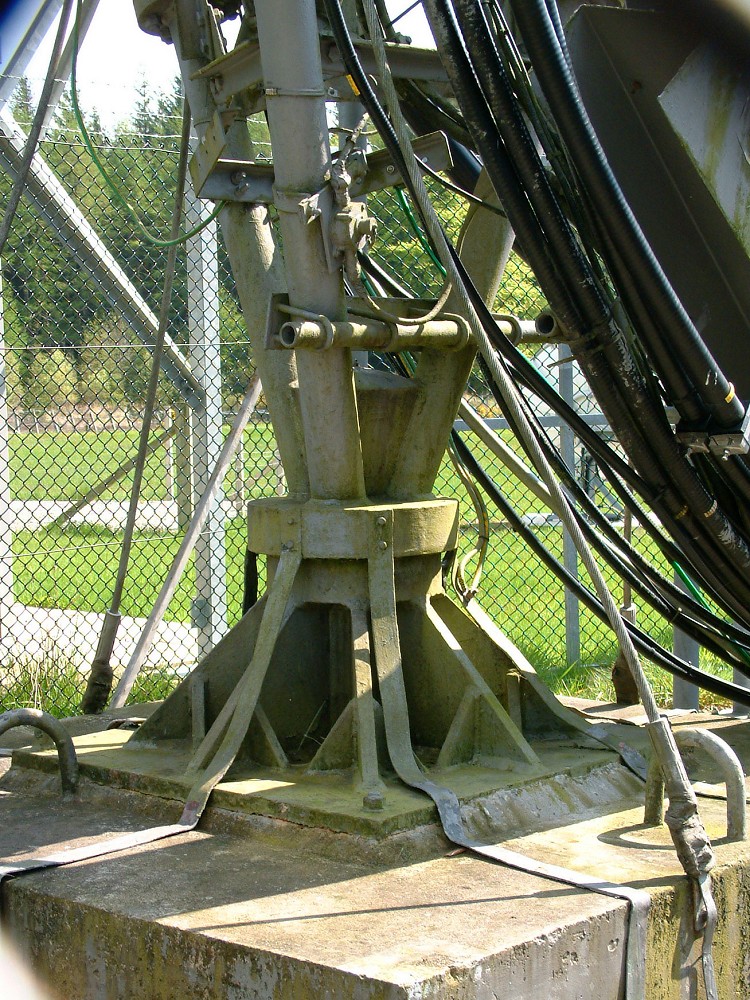 The weight on this little bearing (if it is a bearing) must be enormous, especially when the wind blows and the guy wires translate the sideways forces into a downwards force.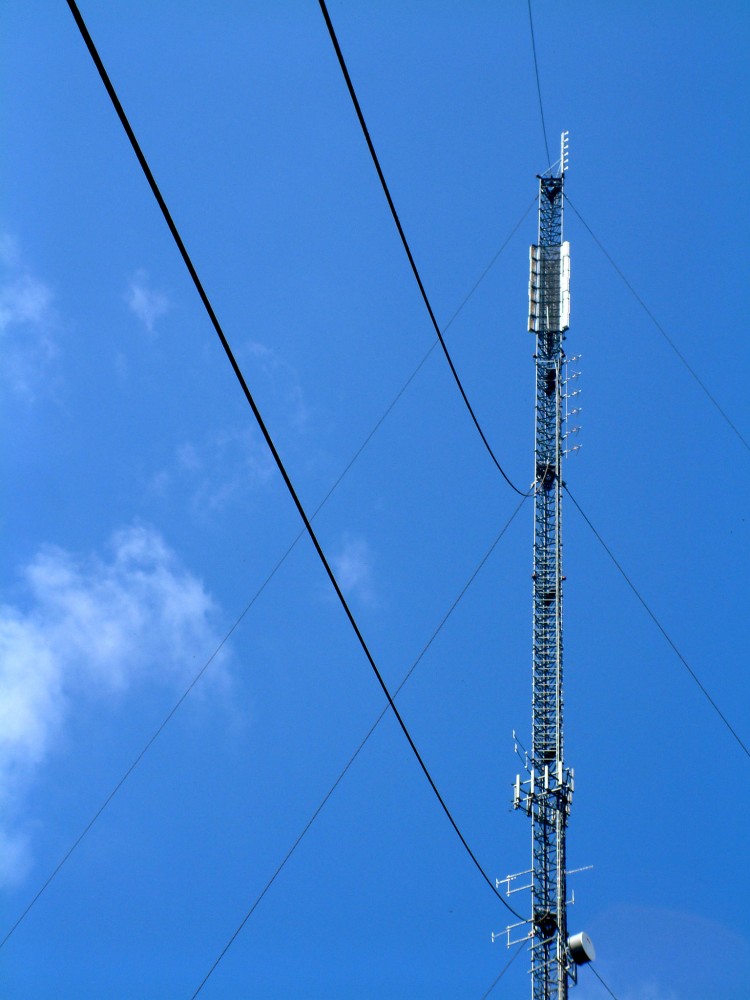 DAB aerials at the very top, then the now disused Channel 5 UHF panels, then the 6 tiers of Sira band II aerials used by both FM radio services. These aerials were installed 1996, for the addition of Classic FM.
A cluster of domestic-type receive aerials perches quite high on the tower.
They point nominally towards Rosemarkie, the main UHF transmitter for this part of Scotland. The installation standard is unimpressive.

Having trespassed thus far I couldnít see much point in getting scratched nearly to death and half drowned for a second time so I strode towards the main entrance, pausing only to turn and take a shot of the front of the building.


Feature: Mounteagle - 405 line Band III information (ITV VHF service area)

Back to TX Gallery index | TX main index
| | | |
| --- | --- | --- |
| mb21 by Mike Brown | Hosted by | |