UK Broadcast Transmission


THE TRANSMISSION GALLERY
WINTER HILL
| | |
| --- | --- |
| Photos by Tony Dunmore | Page last updated: 2011-11-21 |
Pictures Part 1
Pictures taken November 2011.

Winter Hill is the oldest cylindrical mast in the country and according to the planning documents with Chorley District Council the mast height is 309.4m (1015 ft), making the very top of the mast a total height of 747.4m (2452 ft) above sea level. The mast itself was shortened only by a few meters after removal of the old low powered DTT antenna.

Coverage area for Winter Hill extends from Cumbria down to depths of Shropshire and therefore serves one of the most populated parts of the country.

Tony has provided a plenty of pictures which show the recent developments at the site. The pictures have been split across two pages on the gallery.

From the above it can be seen that although the top section (formerly UHF analogue) has been stripped of its GRP shielding, the former Band III aperture (ITV ch 9 from the bottom half and BBC 1 ch 12 from the upper) retains its GRP covers, even though the aerials have long since gone and the space is used for other purposes.

Immediately below the shrouded section we see the FM aerials for 100.4 and 105.4 MHz services.


Winter Hill has a lot of spare space! This picture shows the relationship between the radio aerials, with IRR at 190 m agl, some DAB at 126 m along with two Siras and a slant array, and the top of the BBC's aerials at 95 m agl.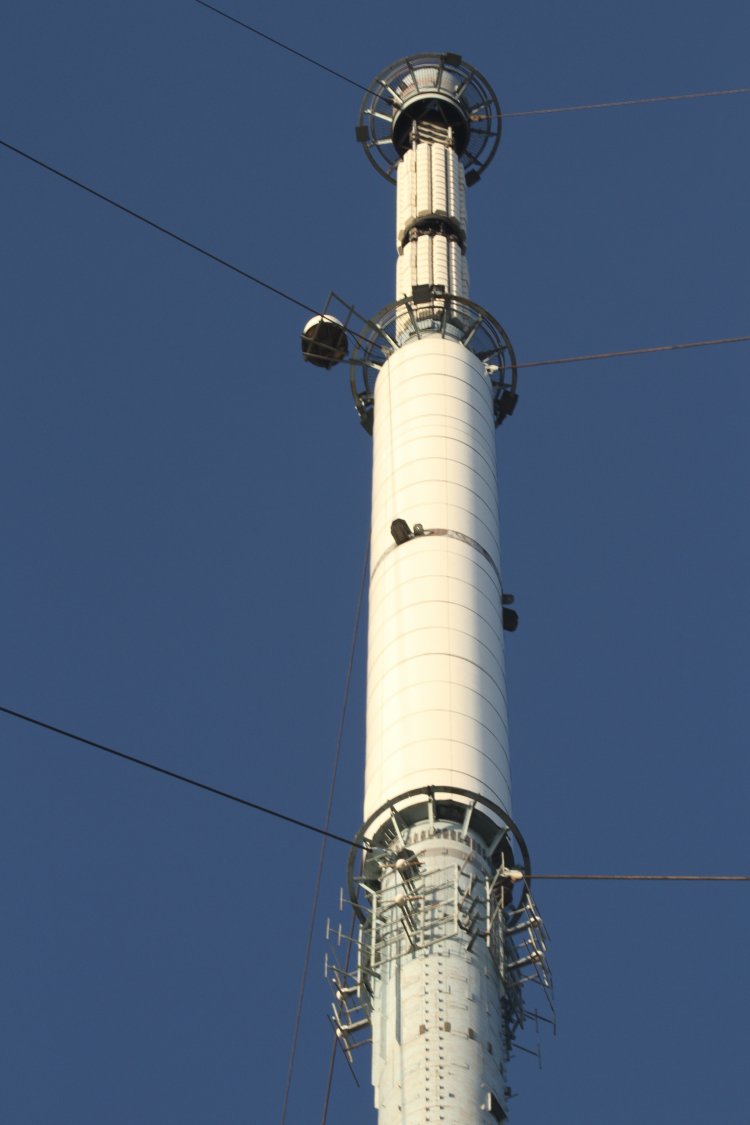 Detailed view of the Band II aerials transmitting 100.4 and 105.4 MHz at 190 m above ground level. The stay level above is at 198 m agl.
A general view of the other FM aerials - for 97.4 MHz ILR and BBC National and Local radio. The pair of logs pointing to the right are on Holme Moss for the BBC National RBL (63 m agl).
DAB aerials at 126 m agl (one of the local MUXs on channel 12 C) but we can't find any reference to the pair of Siras and the slanted dipole/reflector at the same level. Maybe reserve FM tx aerials?
From top to bottom: -

Two tiers of two skeletal cross bows, BBC National Radio, bearings 244 and 334 deg, 95 m agl.

Two tiers of two skeletal cross bows, BBC local radio, bearings 255 and 340 deg, 90 m agl.

Two tiers of two skeletal slots, ILR 97.4 MHz, 82 m agl.
BBC FM RBLs on Holme Moss.
Channel M transmitting aerial. This has been described elsewhere on the Winter Hill pages, but it's worth pointing out the slight (5 deg) downward tilt on the beam to fulfil the technical obligations imposed by Ofcom to avoid interference elsewhere.
Back to TX Gallery index | TX main index
| | | |
| --- | --- | --- |
| mb21 by Mike Brown | Hosted by | |