UK Broadcast Transmission


THE TRANSMISSION GALLERY
WINTER HILL
| | |
| --- | --- |
| Photos by Tony Dunmore | Page last updated: 2018-05-01 |
Feb - April 2014. Installation of Local TV MUX aerials
Our faithful Winter Hill watcher Tony has taken several walks up there, and has been able to capture pictures of ongoing work.
February 2014. The 144m level before the work starts.

Below are pictures taken on 12th March 2014.
The lower set of stays in the picture above are attached at 140 m agl, so we can conclude that this work is at the exact height we would expect for the installation of the local TV MUX aerials, namely 144 m agl.
The device on the end of the long boom, to the left, is believed to be an ultrasonic anemometer. There are 3 of these, at 120° round the mast. Link to website at foot of this page.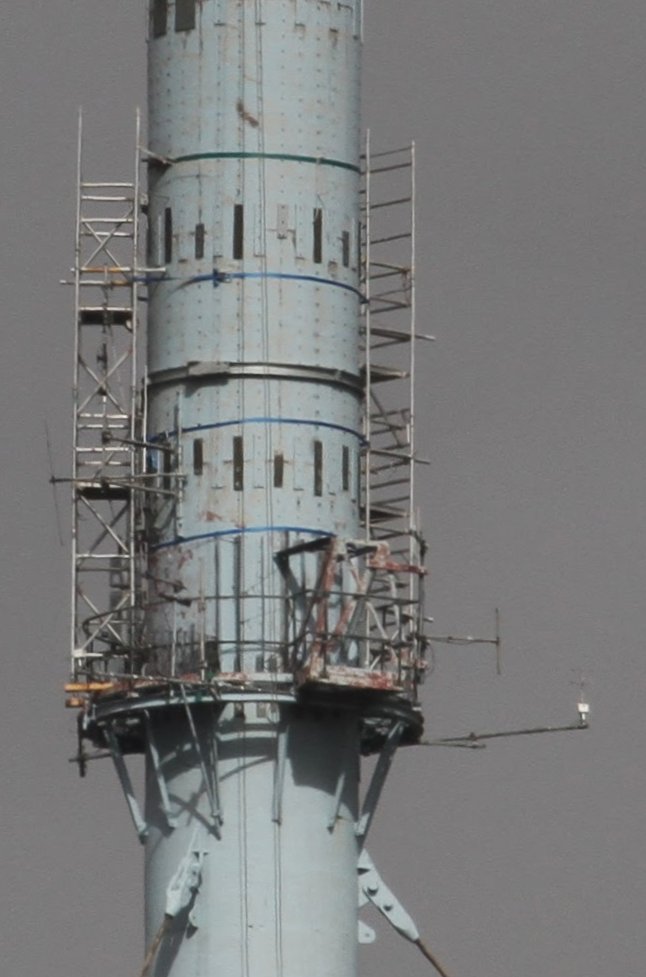 It's now Monday 17th March. You can see they've build the scaff towers up higher and added a fourth coloured (assumed temporary) strap around the mast- the top one is green, the lower 3 are blue. I suspect the coloured straps are to attach the scaff towers to the mast - amongst other things. You can see a single metal strap now completely around the mast which I assume is permanent, and I'd expect to see that as the basis for the antenna mounting.
Friday 21st March. Again to my eyes little has changed -
the scaff towers have been reduced slightly, that's all I see.
Friday 28th March 2014 and some shrouded log periodics have now been installed.
Tony reports that the 4 on the right will be the Manchester petal.
1st April 2014. Tony reports: Not much change on the Manchester (right) side. The left side is definitely the Preston/Blackpool mux- now has 8 antennas - obviously a different arrangement to Manchester, is that a tighter beam for the greater distance? For the Liverpool petal, I can now see a single bracket has appeared on the upper metal ring around the mast- just above and to the left of the person in the suspended cage. I think the Liverpool petal basically hasn't appeared yet. It also looks like permanent access ladders have been added to the Manchester and Preston/Blackpool petals running vertically up the mast.
Above and below: Tony's second April update shows that work seems to be complete. The Liverpool petal is in place and the scaffolding has gone.



Below: Tony returned - yet again - to Winter Hill on 11th April and took further detailed pictures of the new installation.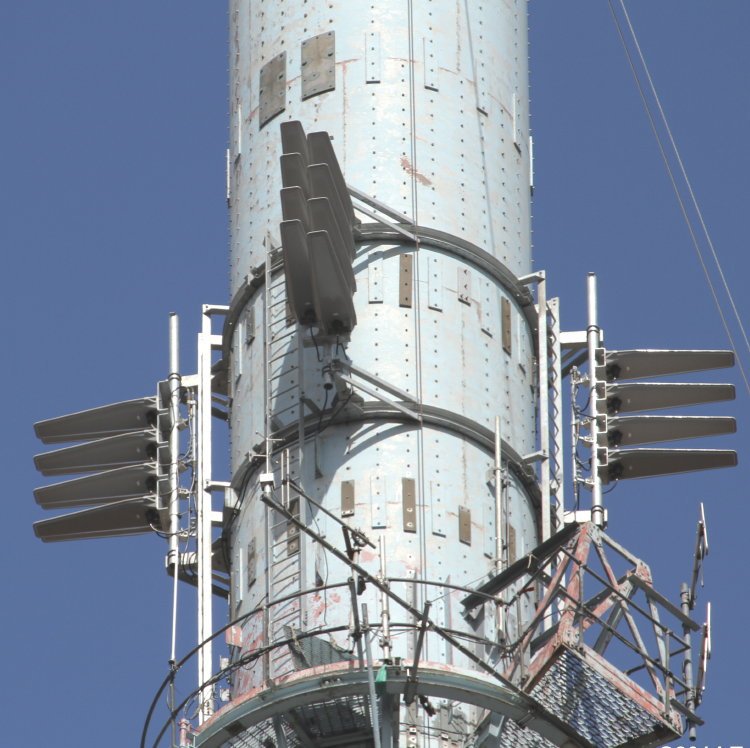 The Manchester, Liverpool and Preston local TV multiplexes went into service on 24th April 2014.
Back to TX Gallery index | TX main index
| | | |
| --- | --- | --- |
| mb21 by Mike Brown | Hosted by | |