UK Broadcast Transmission


THE TRANSMISSION GALLERY
| | |
| --- | --- |
| Photos by Paul Clougher, Paul Andersson and Dan Glover | Page last updated: 2012-06-14 |
NGR: SJ271899
Maps: Google Bing (Ord Surv)
Site Height: 6m
Structure Height: 43.5m
Digital TV:
BBC Radio:
Ind. National Radio:
Ind. Local Radio:
Digital Radio:
Comments:
Used to be a TV relay of Winter Hill, and tx site for 7 Waves Radio, now demolished
Updated June 2012
The Bidston TV relay was on top of a block of flats called Melrose Heights, in Stavordale Rd., Moreton, facing Bidston Hill, and could not be seen until you moved away from the blocks; that's why all the pictures are taken at a distance (indicated by the red arrow).

The relay of Winter Hill was for Bidston, Wallasey Village and the Beechwood estate (Ford). The block was also host to the VHF antenna for the local community radio station, 7 waves.

The blocks were also used in the 1980s for Medium Wave pirate stations when a long wire was put up between the blocks and the ground.

Melrose Heights was scheduled for demolition after Jan 2012, and the TV relay moved to the adjacent site at Sunningdale in Nov 2011. 7 Waves moved to Woodchurch, a couple of miles to the south, at around the same time.

At the time of Dan's visit to Sunningdale, Melrose Heights was still standing, with the TV relay apparently still in place, see below.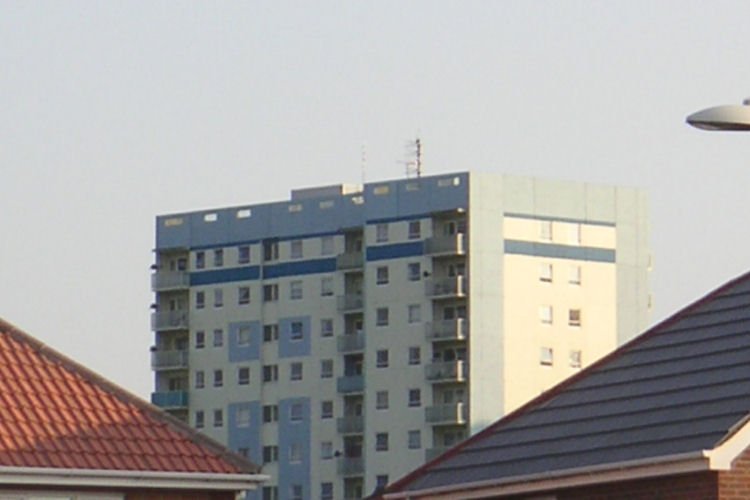 Meanwhile, at roof level we have these closeups of the community radio band II antenna courtesy of Paul Andersson. The installation comprises a vertical end fed colinear and two stacked horizontal antennas, together providing near omnidirectional mixed polarisation coverage
June 2012: still standing - but not for much longer...
Note the horizontal poles sticking out from the side of the building where the former occupiers wanted reception from Winter Hill
This was the best I could do by way of detail. The new site (Sunningdale) has four pairs of logs so it's possible there is another tier hidden below the parapet. I think the object on the cranked extension at the top may be a GPS antenna?
Back to TX Gallery index | TX main index
| | | |
| --- | --- | --- |
| mb21 by Mike Brown | Hosted by | |