UK Broadcast Transmission


THE TRANSMISSION GALLERY
EMLEY MOOR
| | |
| --- | --- |
| Photos by Mark G7RJV | Page last updated: 2017-11-26 |
Development work for new mast
Last year plans were submitted to Kirklees Council (Huddersfield) for the construction of a temporary mast to be built to the south of the present concrete tower. Purpose of the temporary mast is to allow services to continue while the antenna and part the antenna supporting structure at the top of the tower is replaced.

Living within 5 miles of the site I will try and make a weekly visit to the site to take pictures and update this page.
Thursday 11 May 2017.
Danbar drilling rig working in an area to the east of the present tower.
Saturday 24 June 2017.
Balfour Beatty contractor have made a road to the eastern side of the tower.
Saturday 24 June 2017.
Large amounts of earth moved from north of tower.
Sunday 02 July 2017
Gravel down on access road.
Sunday 02 July 2017
Viewing area layby at the site entrance is blocked for all vehicles except those for the contractor. Parking is very limited around the area as several individuals found out while I was at the site.
Sunday 27 August 2017
Very busy July and August for myself working on a large project which has me doing extended hours at work, so unable to visit Emley. Thankfully most of the effort at Emley has been ground based site preparation such as finishing off the site access, fencing with gates to the construction site.
Sunday 17 September 2017
Following pictures taken west of the tower near a Yorkshire Water covered reservoir.
The planning application for the temporary mast has the stay wires running towards the south side of the reservoir. Pictures show a gravel road which runs to a location behind the tower, where the temporary mast will be located.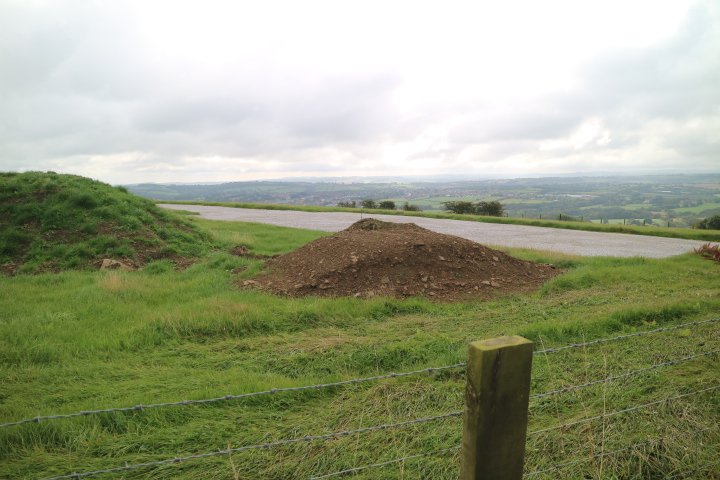 Sunday 26 November 2017
Very little can be seen from the roadside of the construction site, but there are signs of activity with various construction machines on site.
Todays pictures are taken in poor light.
Sunday 26 November 2017
Near by wood has been fenced off and the private lane going to the nearby farm now has a electric gate.
Sunday 26 November 2017
Fuel Bowser ?
Sunday 26 November 2017
The layby and viewing area now has gates at both sides to control access.
Sunday 26 November 2017
Picture taken from near the covered reservoir facing east, behind the tower.
Back to TX Gallery index | TX main index
| | | |
| --- | --- | --- |
| mb21 by Mike Brown | Hosted by | |