UK Broadcast Transmission


THE TRANSMISSION GALLERY
EMLEY MOOR
| | |
| --- | --- |
| Photos by Mark G7RJV | Page last updated: 2018-05-12 |
Temporary mast - Part 3 - Attaching sections of mast
Saturday 12 May 2018
Following pictures show a helicopter lifting the mast section and the efforts of the mast riggers to locate the mast section and secure it into position.

Saturday 12 May 2018
Riggers already at the top waiting for the mast section being carried by a helicopter.
The riggers are reaching for steel cables attached to each leg of the mast section.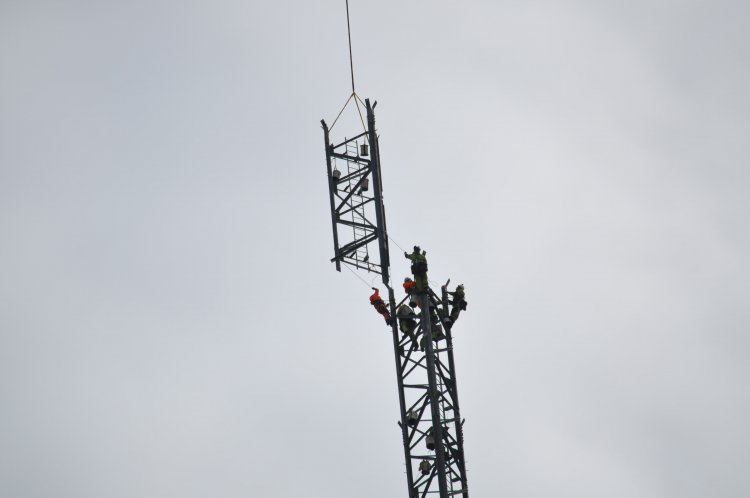 The mast section is rotated so that the ladder is in the correct position.
For around a couple of minutes, the mast was maneuvered into position by the helicopter with the riggers holding on to the steel cables attached to the bottom of the section.
The steel cables which hang through the bolt holes in the section being lowered are threaded through the bolt holes in the lower section. This "auto aligns" the two sections without rigger assistance. One by one, the steel cables are removed and replaced by (dirty great big) bolts.
Slight tilting of the mast section by the helicopter to aid riggers secure it to the top of the structure.
Once the section of mast is secured, one of the riggers climbs the ladder to release the helicopter.
The helicopter returns back to the ground, but the engine remains running. The riggers continue to secure the mast section and then proceed to the top so that the another mast section can be added. After approx 10 to 15 minutes the helicopter takes off again.
Back to TX Gallery index | TX main index
| | | |
| --- | --- | --- |
| mb21 by Mike Brown | Hosted by | |