UK Broadcast Transmission


THE TRANSMISSION GALLERY
EMLEY MOOR
| | |
| --- | --- |
| Photos by Mark G7RJV | Page last updated: 2018-11-13 |
Temporary mast - Part 5 - Antenna and miscellaneous pictures
Kirklees planning application has two wrap around antenna near the top of temporary structure. One antenna is the S2 (Service 2) antenna which is often called the reserve antenna for DTT. The other is classified as for other services which is probably DAB.

The mean height of the S1 antenna mounted on top of the structure is 317m.

The mean height of the S2 wrap around antenna just below the top platform is 295m.

The mean height of the lower wrap around antenna is 279m.

All antenna on the temporary mast are at a similar height as the antenna at the top of the concrete tower.

Sunday 01 July 2018
I had chance to drive along A642 Huddersfield Road a few times throughout June and didn't notice much happening on the temporary MLM mast other than the addition of the top platform and ring underneath.
Sunday 01 July 2018
Antenna work seems to progressing with the installation of a unusual antenna. Unfortunately the sun worked against me today, so I will need to take a 500mm telephoto lens to site on my next visit to gain more detailed photo's.
Monday 02 July 2018
Antenna was thought to be a Eletec Broadcast Telecom based in France, but it turns out to be a similar design from Sira (Italy). Vertical Band III panel antenna for DAB services.
Thursday 05 July 2018
Aeroplane Warning Lights in position but not wired.
Thursday 26 July 2018
AWL now powered. Picture taken from 10 miles north of Emley at 21:30.
Saturday 11 August 2018
Band II antenna for local radio and a partial S2 antenna are now in position.
Saturday 11 August 2018
View of new mast from Holme Moss, taken around 7am.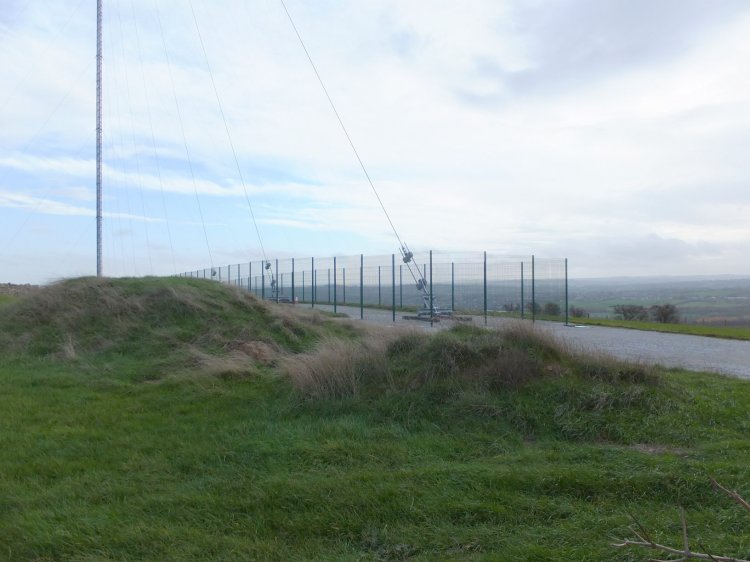 Saturday 10 November 2018
One final drive past the site for this year, the light was poor, so the pictures are not ideal.

Perimeter fence.
Saturday 10 November 2018
Feeders showing for the S2 antenna.
Saturday 10 November 2018
Feeders installed. Possible the temporary structure is nearing completion or has been completed.

Next event at Emley Moor is antenna work on the concrete tower. I will try and gain pictures of the work when it starts.
Back to TX Gallery index | TX main index
| | | |
| --- | --- | --- |
| mb21 by Mike Brown | Hosted by | |