UK Broadcast Transmission


THE TRANSMISSION GALLERY
BLACK HILL
| | |
| --- | --- |
| Photos by David Foord, James Towill and Steve Webster | Page last updated: 2013-11-29 |
Black Hill (or Blackhill) was the first ITA transmitting station to be built in Scotland, sited in North Lanarkshire near the BBC's Band I transmitter site at Kirk O'Shotts.

The original 750ft mast entered programme service for Scottish Television on 31 August 1957, but was soon replaced by a new 1000ft mast from July 1961 in order to provide improved coverage.

The site was then chosen to carry 625-line services, in preference to Kirk O'Shotts, and consequently became the hub of the UHF transmitter network for Central Scotland. BBC 2 started from 9th July 1966, with BBC 1 and ITV from 13th December 1969. In the late 1970s, along with Croydon, Emley Moor and St Hilary, Black Hill was designated as one the four new IBA Regional Operation Centres (ROCs) for the remote monitoring and maintenance of unattended transmitters. The Black Hill ROC eventually came into operation in 1981, serving all IBA transmitters in Scotland and Northern Ireland. This role continued under NTL.

The site transmitted all 5 terrestrial television channels, with Channel 5 analogue operating at the same power as the other channels (500kW max ERP), from an aerial only marginally lower.

When the BBC upgraded their FM radio transmissions for Central Scotland to signals with mixed polarisation the mast at Kirk O'Shotts was unable to carry the new aerials which were required, so these transmissions were transferred to Black Hill and entered service on 1st September 1988. Radio 1 and Radio 4 started up at the same time.

The addition of further FM services, DAB and finally DTT is covered on other pages.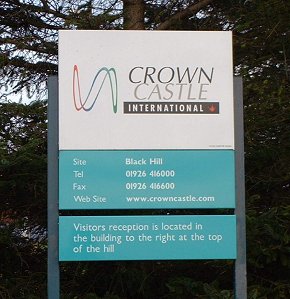 Dual Signage at this site - although it's all Arqiva now.
This view of the site entrance shows the Arqiva (previously NTL, IBA) buildings immediately to the left with the NGW (Crown Castle, BBC) compound further up on the right, nearer the mast.
The vertical lines below some of the stay cables are chains - probably to provide an element of damping?
Croydon | Emley Moor | Kirk o'Shotts | St. Hilary
BBC RD Report: UHF Transmitting aerial for Black Hill

Back to TX Gallery index | TX main index
| | | |
| --- | --- | --- |
| mb21 by Mike Brown | Hosted by | |