UK Broadcast Transmission


THE TRANSMISSION GALLERY
OXFORD
| | |
| --- | --- |
| Photos by Martin Watkins | Page last updated: 2011-09-22 |
June 2004
Most of the interim DTT services are transmitted from the main UHF aerial, but the ITV MUX on ch 68 is broadcast from the two tier/four panels per tier protuberance at the very top.
The interleaving of the DAB aerials amongst the Band II aerials can be seen clearly in the above.
The UHF panels here are the "SIX TV" transmitting aerials at a height of 105 m agl. (no longer in service).
This is the analogue ch 5 aerial, at an agl of 86 m.
This forest of VP logs points at Farthinghoe, and formed the rx end of a dedicated link from that site which was used for a while to bring the Channel Four feed to the Oxford transmitter. Whilst this link is shrouded in obscurity, it seems likely from an ITU document that it used UHF ch 32.

Subsequently Oxford moved C4 advertising region from the Midlands to the South in the mid 00s, so C4 analogue's final years were as an RBL from Hannington.

BBC UHF services were until October 2000 tied the the London and South East region. Both BBC 1 and 2 were fed by RBL from Crystal Palace, received at a site at Whipsnade, and then an onward SHF link to Oxford.

In October 2000, the transmitter was given a regional sub opt, and tied to the BBC South region.

BBC2 analogue was RBL Hannington, whilst BBC1 was fibre fed. Both BBC2 and C4 were in turn sourced at Hannington via RBL from Rowridge, making it a rather tortuous signal route!
The top of the MW aerial. Formerly used by Radio Oxford on 1485 kHz, the frequency was withdrawn (and not used for several years). In the meantime the facility has been the home of a relay for Virgin/Absolute on 1197 kHz right from the start of INR 2.
For some reason no one seems quite brave enough to take a pair of shears to this elder bush, growing so daringly close to the feed point of the MW aerial (insulators just visible amongst the foliage to right of bush).
Here's the base of the MW aerial, the two wires to the ATU can be seen disappearing to the right into the elder bush.
The ATU viewed from the "safe" side.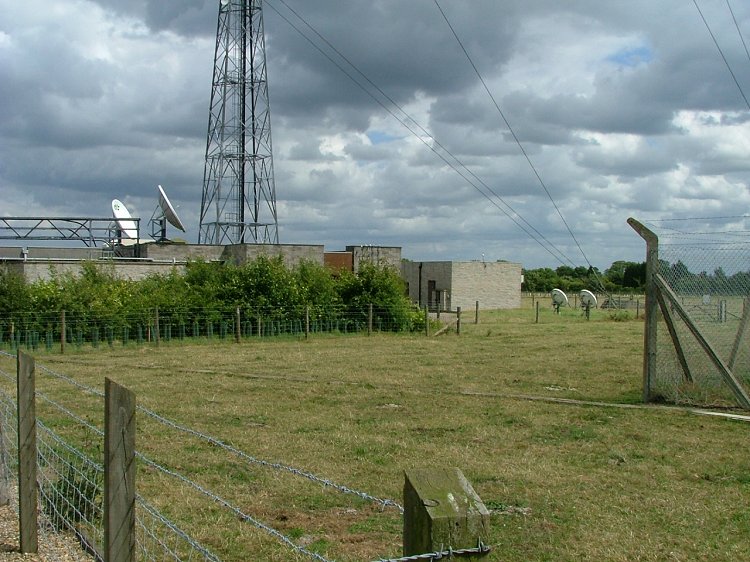 Back to TX Gallery index | TX main index
| | | |
| --- | --- | --- |
| mb21 by Mike Brown | Hosted by | |