UK Broadcast Transmission


THE TRANSMISSION GALLERY
THE WREKIN
| | |
| --- | --- |
| Photos by Mark Holderness | Page last updated: 2014-06-29 |
April 2014 post DSO
Myself and the missus just popped up to see 'Iron Bridge' from Herts one weekend on a whim, and other wonders of the surrounding area such as Blists Hill Victorian village. But having worked on the UK Railways, I was quite used to seeing actual Victorian infrastructure actually still being used! anyway... I sneaked off under the guise of 'walking' which, of course I did as I ascended the steep climb to the summit! And it was SO worth it.

This site (The Wrekin) allows a good view of the tower also. This is because you are 1/3 of the way up the tower (height wise) when stood opposite it on the adjoining hill. Anyway, enjoy! Mark

The pre-DSO DTT log periodics, that were below the band II array have now been removed.
The interleaved band II / DAB array. Band II shared by both BBC & ILR. DAB shared by both BBC & Digital One. The 2 tiers of twin folded dipoles, on the left, were for Wolverhampton DAB (43m). As of April 2016, Wolverhampton DAB now shares the interleaved DAB array with BBC & Digital One.

The DAB panels on the bottom edge of the pictures were the West Midlands DAB (40m), now closed.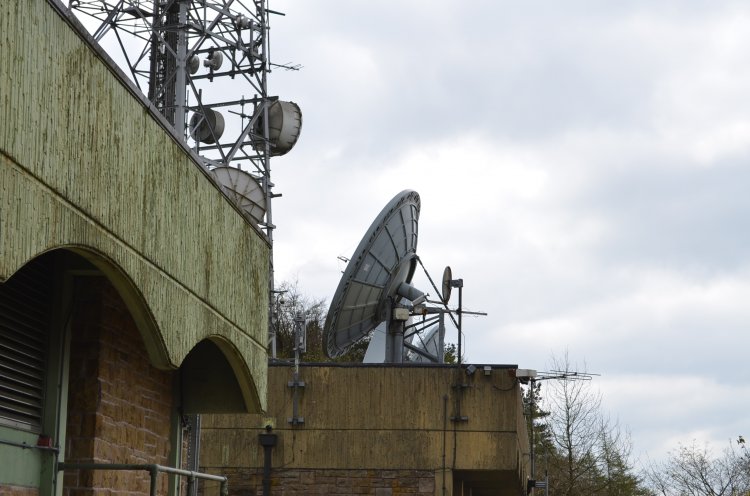 The worlds first 'proper' bridge.
Back to TX Gallery index | TX main index
| | | |
| --- | --- | --- |
| mb21 by Mike Brown | Hosted by | |