UK Broadcast Transmission


THE TRANSMISSION GALLERY
CRAIGKELLY
| | |
| --- | --- |
| Photos by Colin Dalziel (GM8LBC), Richard Moore, Robert Clark, Dan Glover and Bill Wright | Page last updated: 2016-03-22 |
Originally an ITA landlord site, BBC 2 entered service on 27th October 1969, BBC 1 on 7th August 1971, ITV on 27th September 1971, Channel 4 from March 1983, with Channel 5 available from the launch on 30th March 1997. DTT was available from 1998. DSO was on 1st and 15th June 2011. Mux 7 was added on 10th December 2013. Edinburgh local TV from 10th February 2014. Mux 8 on 12th May 2015.

ILR Edinburgh (Radio Forth) launched on 22nd January 1975, on 96.8 MHz. Frequency changed to 97.3 MHz on 22nd January 1987. IRR Central Scotland (Scot FM) launched on 16th September 1994 on 101.1 MHz. BBC Radio nan Gaidheal entered service in February 1996 on 104.1 MHz. Beat 106 launched on 19th November 1999 on 105.7 MHz. Talk 107 launched 14th February 2006 on 107.0 MHz. Closed 23rd December 2008.

DAB service dates: Digital One, 6th October 1999; Edinburgh, 11th October 2000; Central Scotland, June 2001; BBC, 5th February 2004; Sound Digital, 29th February 2016.
Craigkelly across the Firth of Forth as seen from the rooftops of Edinburgh.
Colin Dalziel writes "Free-standing towers are the exception rather then the rule for structures over 50m. This one had a previous existence as the first (circa 1957) tower installed at (I think) Emley Moor, but brought to Scotland in the late 1960s for the opening of the UHF TV service in East Central Scotland."

The next two shots were taken from Burntisland by Robert Clark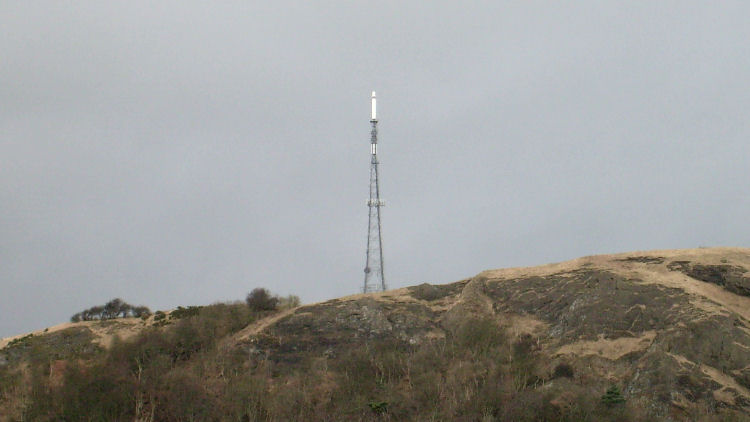 The next two shots were also taken from Burntisland, by Dan Glover.

Dan gives us our first look at the tower since its DSO upgrade:
Craigkelly at dusk - photographed by Bill Wright
Black Hill | Emley Moor | Kirk o'Shotts
Back to TX Gallery index | TX main index
| | | |
| --- | --- | --- |
| mb21 by Mike Brown | Hosted by | |