UK Broadcast Transmission


THE TRANSMISSION GALLERY
DOUGLAS (CARNANE)
| | |
| --- | --- |
| Photos by Douglas Mann and David Taylor | Page last updated: 2014-11-08 |
Previous Photos
The mast is at Carnane on the hill overlooking Douglas, less than a mile south of the town.

405-line BBC TV commenced on 12th December 1957, on VHF channel 5. Closed 4th July 1983. UHF TV on 3 channels entered service on 1st October 1976, with Channel 4 from January 1984. DSO was on 18th June and 16th July 2009.

BBC FM radio was added on 9th March 1958 with the North Home Service. The Light and Third Programmes were added on 15h June 1959. In July 1984, FM radio re-engineered for mixed polarisation. Radio 1 was added on 19th March 1992.

13th August 1996 Classic FM in service. 27th June 2001 Energy FM added. 13th December 2007 BBC DAB in service.
The analogue TV signals were fed from Caldbeck, 115 km away, making this the second longest UHF TV RBL path, after the link from Stockland Hill to Alderney (135 km). BBC 1 & 2 could also be switched to RBL Winter Hill so Douglas could transmit North-West regional programmes. Winter Hill being 142 km away, it is understandable that this was not used for the normal RBL.


BBC Radio and Classic FM are both fed from Sandale.
The Siras at the top of the mast transmit Classic FM at 500w while the main array below handles BBC Network Radio and Manx Radio at 10.8kW. Energy FM is also radiated from this site at 2kW ERP.
Above: the northerly mast stays with the Manx Radio studios visible in the background.

Below: the westerly mast stays and compound fence, with Douglas Bay and Onchan to the North.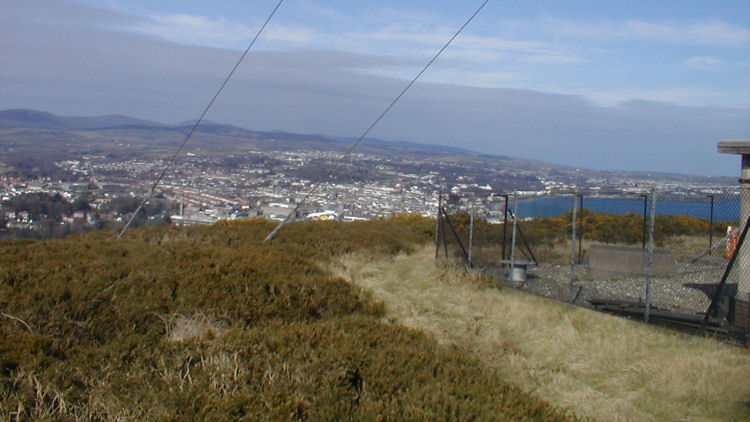 In 2007 the BBC's network FM aerials were replaced. The old CSA mixed polarisation panels were replaced with Alan Dick & Co mixed pol panels, presumably to allow for the subsequent interleaving of DAB dipoles.

(Classic FM continues to be broadcast from the two Sira aerials at the top of the tower).
Above and below - new ADC panels.
The old CSA dipoles after removal from the mast.
BBC RD Service Area of the Temporary Television Transmitter at Douglas (1954)
BBC RD Television Service - Isle of Man (1957)

Back to TX Gallery index | TX main index
| | | |
| --- | --- | --- |
| mb21 by Mike Brown | Hosted by | |